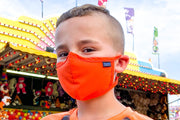 While we are hearing of some great progress in terms of COVID rates nationwide, there is still the recommendation to wear masks in public places before a person is vaccinated.  We know this is a challenge in lower income communities, and we would like to donate Mambe face masks to schools or other charities that serve these communities.  We hope you will help us get them in the hands of families who need them most.  This donation is a 100-pack of Mambe Face Masks in various colors.  The $20 cost of this donation helps cover the shipping & handling costs to deliver the facemasks to a school or other non-profit of your choice.  


Important: This face mask donation must be sent to a 501c3 school or other non-profit organization.  Please enter the organization's name and address in the box above.  If you don't know the address, we'll find it for you.  If you don't have a specific school in mind, we can select one for you.  We'll provide the tracking number and let you know when the donation of face masks will arrive at the charity or school.

THANK YOU for helping others in need and making this donation possible!  Let us know if there are color/size preferences and we'll try to accommodate.  Quantities are limited.
These would come in handy too...