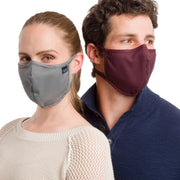 Mambe Protective Face Masks are non-medical grade masks designed to help protect individuals, families, and our communities from the spread of Covid-19.  They are made with two layers of breathable fabric - a tightly woven polyester microfiber on the outside and a poly-knit fabric on the inside for comfort, breathability, and moisture wicking.  The washable cloth face masks have a fully adjustable cord that goes around the back of your head, eliminating painful stress on your ears.   A flexible brass nose band ensures a snug fit.  Microfiber face masks are available in adult and child sizes.  Proudly Made in the USA - Seattle, Washington.  See images below.  For wearing instructions please select the video tab above.

Features



Contoured shape for snug, comfortable fit


Easy on the ears!  Adjustable cord removes pressure and pain from ears


Internal brass nose band can be custom shaped to the user


Machine washable in warm water, gentle cycle, dry on low


Ideal for intermittent or continual wear


Proudly designed and sewn in the USA by Mambe Blanket Co.



Please Note



This is a personal use reusable fabric face mask and is not returnable, exchangeable or guaranteed in any way




Not FDA approved


Not a direct substitute for N95 masks or other medical grade PPE


Not to be used by children under 3, anyone with trouble breathing, or anyone unable to remove mask without assistance.


The masks are not waterproof, our blankets are.  :-)



Tips



Use flexible nose band and cord lock to ensure a snug, comfortable fit


Wash hands before putting mask on and after taking it off




Limit touching your fabric face mask when wearing it



 Available in three unisex sizes, Child, Adult and XL Adult.  Child mask will fit children ages 3-10.  Adult will fit teens and average adults.  XL Adult will fit people with larger heads and men with beards.  Mask dimensions are: Child: 5" x 7", Adult: 6" x 8", XL Adult: 6.5" x 9" (not including the cords).   Please note - mask dimensions are approximate and there will be some slight variation. 


IMPORTANT - all mask purchases made prior to July 15th 2020 were XL size.

Based on customer feedback we now offer two adult sizes: Adult and XL

Adult. If you ordered an Adult mask prior to July 15th and want the same

size, then order an XL now.




Use of Cloth Face Coverings to  Help Slow the Spread of COVID-19 

How to Wear Cloth Face Coverings

Cloth face coverings should:
• fit snugly but comfortably against the side of the face
• be secured with ties or ear loops
• include multiple layers of fabric
• allow for breathing without restriction
• be able to be laundered and machine dried without damage or change to shape

CDC on Homemade Cloth Face Coverings

CDC recommends wearing cloth face coverings in public settings where other social distancing measures are difficult to maintain (e.g., grocery stores and pharmacies), especially in areas of significant community-based transmission. CDC also advises the use of simple cloth face coverings to slow the spread of the virus and help people who may have the virus and do not know it from transmitting it to others. Cloth face coverings fashioned from household items or made at home from common materials at low cost can be used as an additional, voluntary public health measure. Cloth face coverings should not be placed on young children under age 2, anyone who has trouble breathing, or is unconscious, incapacitated or otherwise unable to remove the cloth face covering without assistance. The cloth face coverings recommended are not surgical masks or N-95 respirators. Those are critical supplies that must continue to be reserved for healthcare workers and other medical first responders, as recommended by current CDC guidance.


Should cloth face coverings be washed or otherwise cleaned regularly? How regularly?

Yes. They should be routinely washed depending on the frequency of use.


How does one safely sterilize/clean a cloth face covering?

A washing machine should suffice in properly washing a cloth face covering.


How does one safely remove a used cloth face covering?

Individuals should be careful not to touch their eyes, nose, and mouth when removing their cloth face covering and wash hands immediately after removing.

These would come in handy too...