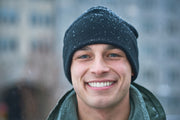 With colder weather lingering, there are many people in our communities who could use a little help staying warm and safe.  In the process of making our cold weather blankets, we sometimes have small pieces of scrap fleece left over.  Rather than discard these scraps, we save them and make hats out of them.  We hope you will help us get them in the hands of people who need them most this winter.  This donation is a 10-pack of super warm winter hats made of genuine Polartec 300 fleece, plus 10 face masks, with a total retail value of $205.  The $20 cost of this donation helps cover the shipping costs to deliver the hats and facemasks to a shelter or other charity of your choice.  


Important: This Polartec 300 fleece cap must be sent to a 501c3 homeless shelter or other charity organization.  Please enter the organization's name and address in the box above.  If you don't know the address, we'll find it for you.  If you don't have a specific charity in mind, we can select one for you.  We'll provide the tracking number and let you know when the donation of hats and masks will arrive.  PLEASE NOTE - we must limit donations to one per customer so others get the chance to donate winter hats too.  

THANK YOU for helping others in need and making this donation possible!  Quantities are limited, but will be restocked periodically.
These would come in handy too...